Challenges for High Quality

Thorough initial flow test at the time of testing prototype
Multiple inspections (checking within the manufacturing process by the test team of Manufacturing Department, and inspection by Quality Management Department)
Quick initial response when defects are found, and ensuring to prevent the same or similar defects from re-occurring by investigating the reason for defects, analyzing causal factors, and taking measures to eliminate defects.
Checking customer satisfaction and continuously taking improvement measures
Quality Management System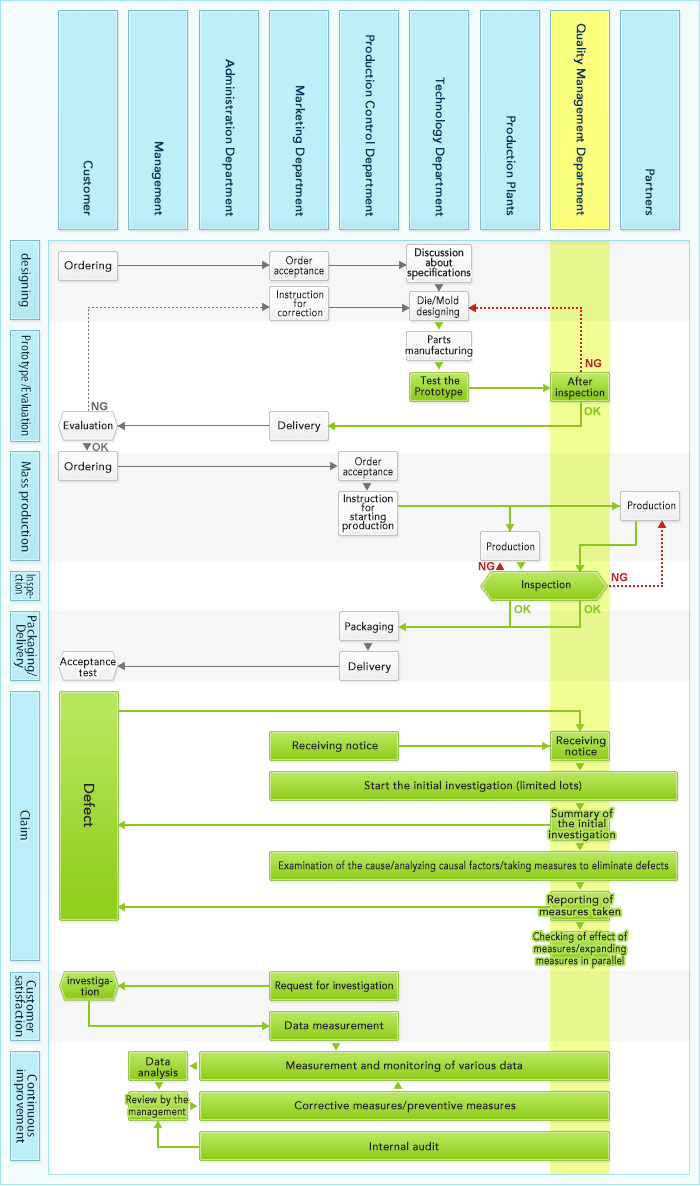 Obtainment of ISO 9001 and ISO 14001 Certifications
CEBU YMTECHNOLOGY INC. The Cebu plant, and the Manila factory, ISO 9001 and ISO 14001 certification.
Quality Pplicy
「Offering of the quality control system and the technology which get trust and satisfaction of the customer 」
We obey quality management for the purpose of continuing supplying all customers with a stable product of high quality.
We contribute to the company and social development with reliable quality and trust in response to the needs of the customers.
Based on a quality policy, we secure the quality that a customer requires by making responsibility and authority of the staff clear and by stipulating, carrying out and continuing the structure to guarantee the quality.
We meet the needs of the customer by always educating the talented person and by showing ability of each staff to the maximum.
We carry out the continuous improvement activity of the quality management system to get customer satisfaction.
We offer service to have a customer satisfaction by carrying out promotion of 6S which added speed to basic 5S ( rearranging, order, cleaning, cleanliness, discipline) of the manufacturing industry thoroughly.


2012.06.13
CEBU YMTECHNOLOGY INC.
OKUMA MD
Metal Die and Mold and Product Samples
---