Challenges for High Quality

Thorough initial flow test at the time of testing prototype
Multiple inspections (checking within the manufacturing process by the test team of Manufacturing Department, and inspection by Quality Management Department)
Quick initial response when defects are found, and ensuring to prevent the same or similar defects from re-occurring by investigating the reason for defects, analyzing causal factors, and taking measures to eliminate defects.
Checking customer satisfaction and continuously taking improvement measures
Quality Management System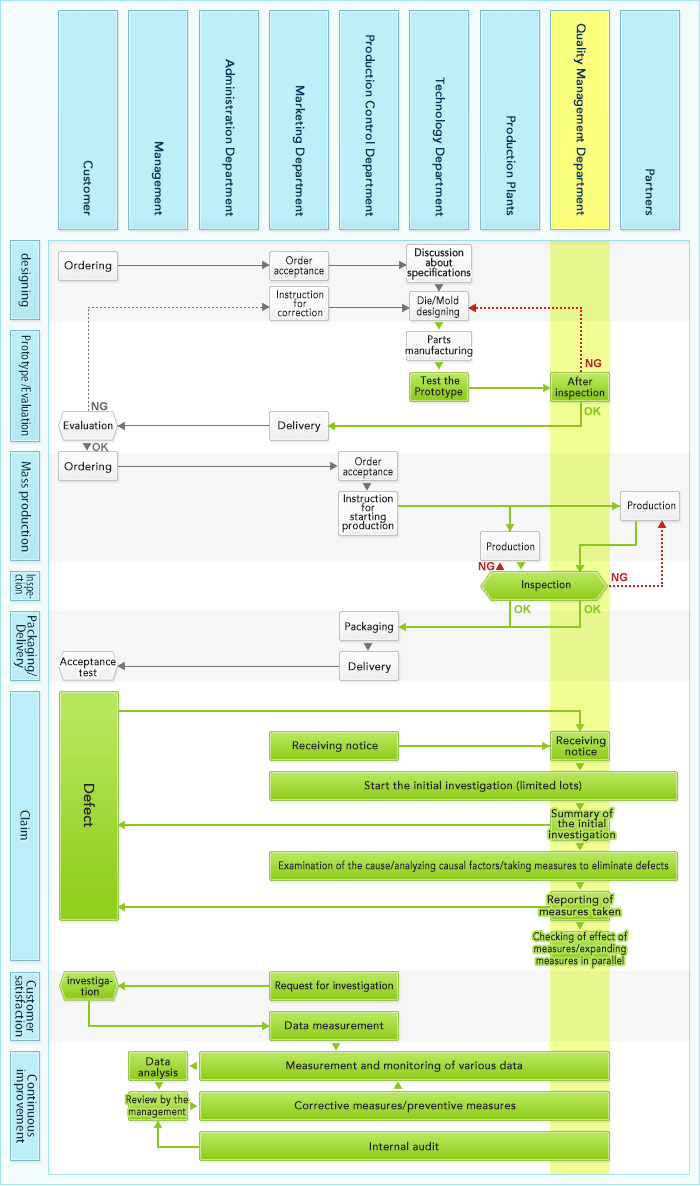 Obtainment of ISO 9001 and ISO 14001 Certifications
CEBU YMTECHNOLOGY INC. the Manila factory, ISO 9001 and ISO 14001 certification.
【Manila factory】
Quality Policy
CEBU YMTECHNOLOGY INC. is a manufacturer of Pressed Metal Parts and Plastic Injection Molded parts for Electronic Components.
We are committed to offer Quality Products and Technology to ensure trust and satisfaction of our customer.
To ensure that we continuously supply stable products with high quality and value, we implement the following principles.
Compliance with all the applicable legal, quality, product, safety, health, customer and other requirements to which we subscribe;
Create and manage an effective quality management system through periodic review of the set quality objectives, targets and programs;
Efficient use of our resources, deploy competent employees and always update our technology to ensure that on time delivery will be serve and meet customer requirements;
Apply appropriate measure to ensure that this Quality Policy was communicated and understood by all employees and other interested parties.
We periodically review our Quality Management System and the result will be our inputs for continual improvement.


2015.07.11
CEBU YMTECHNOLOGY INC.
Chief Strategy Officer
Senior Vice President
Mr. Koji Otsuka
Metal Die and Mold and Product Samples
---